If you are just getting home today and have no idea what to make. Stop. Look in your cupboards for some noodles (most any kind will do). Open your freezer and grab a bag of frozen veggies (peas preferably). Brown some ground meat, add seasonings and a touch of olive oil, and voila; you have a one pot, well-rounded dinner ready to go for you and your family!
I love making an easy one pot meal for dinner, especially when it tastes so good! I make this meal (or one of many variations of it) at least a couple of times a month for a quick, last minute, don't-have-to-think-much meal. I'll have to give credit where credit is do though; my Easy-Peasy Noodle Dinner recipe inspiration came from friends of mine in high school. I have been making my version of it ever since I had that dinner in their home! Thank you, Pillsburys! 🙂
My all time favorite pot for this meal is the Bialetti Pasta Pot!!! It's only $29.99 on Amazon; and it makes it SO easy and convenient to cook any kind of pasta! Seriously! Andrew and I got it as a wedding gift, and I have used it repeatedly over the last year and a half – way more than I expected. I have been so happy with it! Cook pasta in minutes with ease!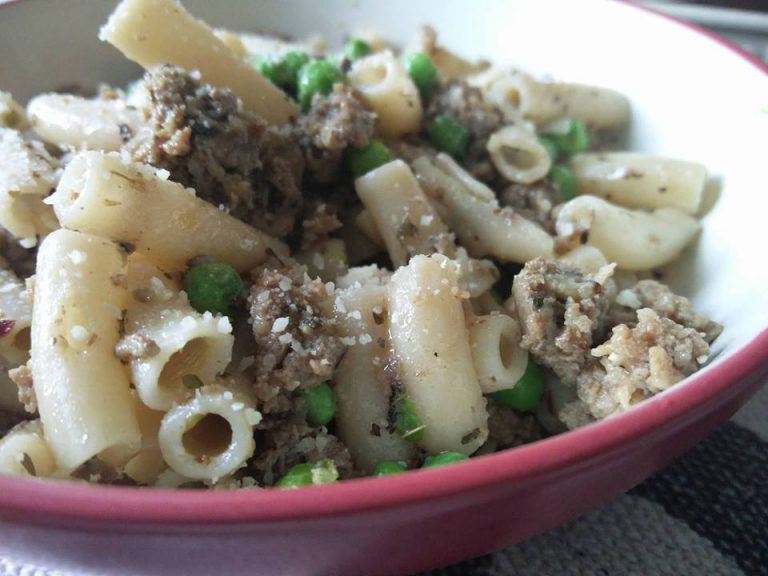 | | |
| --- | --- |
| | |
Cook noodles according to package directions in a large pot, drain, pour back into pot, and save for later. Pour bag of frozen peas, olive oil, and seasonings into still hot noodles, mix, cover, and put over medium-low heat. While noodles are cooking and in a non-stick skillet, brown ground meat; sausage season. Add sausage seasoned meat to the noodles, peas, olive oil, and seasonings. Allow all ingredients to heat through on medium-low (about 5-7 minutes). Serve and enjoy! Sprinkle parmesan cheese on each helping for extra goodness!