Michigan rainy days = the feeling of needing to bake cookies (fortunately I don't give in every time 🙂 )!
A few weeks ago I discovered this recipe on a cozy, rainy day when I only had a few spare ingredients in the house. I threw them together, and the result was cookies that I couldn't stop eating (for real!) – with the perfect oatmeal flavor, spice, and mix of white chocolate chips and raisins. These aren't quite like typical oatmeal cookies. They have a lot less oatmeal, to just add a touch of that oatmeal cookie flavor but with a consistency more like regular chocolate chip cookies. *Secret ingredient alert:* the pumpkin pie spice in this recipe sends you into your own little spice cookie heaven!
I hope you find a rainy day soon to make a batch. 😉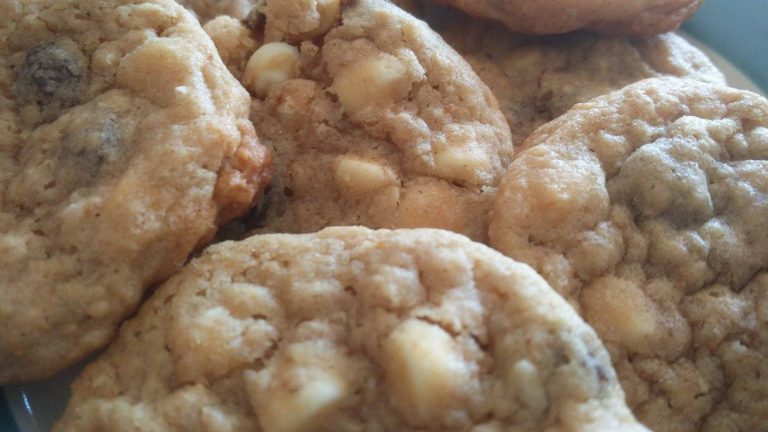 | | |
| --- | --- |
| | |
Turn oven on to 350 degrees.

Lightly beat softened butter and sugar until smooth; add eggs and vanilla. Mix. Add dry ingredients slowly, while mixing at low speed. Add white chocolate chips and raisins last, mixing till evenly combined. Roll into 1" balls and place on lightly greased cookie sheets. Gently flatten. Bake at 350 for 10 minutes, or until lightly browned on the bottom and edges of cookies. Do not overbake!